RETURN TO FACE TO FACE TRAINING
Dear Student/ Parent,
I hope you and your family are healthy and safe and coping with the restrictions due to the pandemic.
The health and safety of students and their families is my primary concern, so I have given a lot of thought as to how we can safely return to face to face training. Please read the risk assessments – they contain important information on the actions you need to take.
I am putting in place a phased return, with a mix of outdoor, indoor and the continuation of online teaching using Zoom, as I know some of you are reticent to return to training indoors or with other students. I have been overwhelmed by the number of students who have continued to train during lockdown for which I am truly grateful – it has kept me motivated.
Can I also say thanks to everyone who has continued with the monthly payment. I do understand that this was not always possible in your individual circumstance, but I am delighted at the number of people who intend to return to training as the restrictions relax.
Of course, I have to make some changes to the way classes are organised to manage risk of transmission of Covid – 19. These changes are itemised in detail in the risk assessments and method statements attached. Please read these – It's essential that everyone is aware of the actions they need to take. The main changes are as follows.
We will not be practising sparring against each other, or self-defence. There will be no physical contact at all. We will also cease to use the kick shields and focus pads.
Classes will be shorter with a 15-minute break in between and will be smaller in size.
Personal sanitizing will be essential. Sanitizer will be supplied, but please bring your own as well
Masks are not mandatory, spectators are encouraged to wear them
Classes will have to be booked in advance – so we have a record of attendance to enable track and trace. (This is not necessary for the zoom lessons – everyone will be invited to them)
You can access the Academy timetable to book your lesson here https://teamup.com/ksbz59bx3wx3ndq6yf
Or you can download the "Teamup" app here https://www.teamup.com/how-different/
Once you book your lesson, I will get confirmation of your name and e mail address.
The class timetable is as follows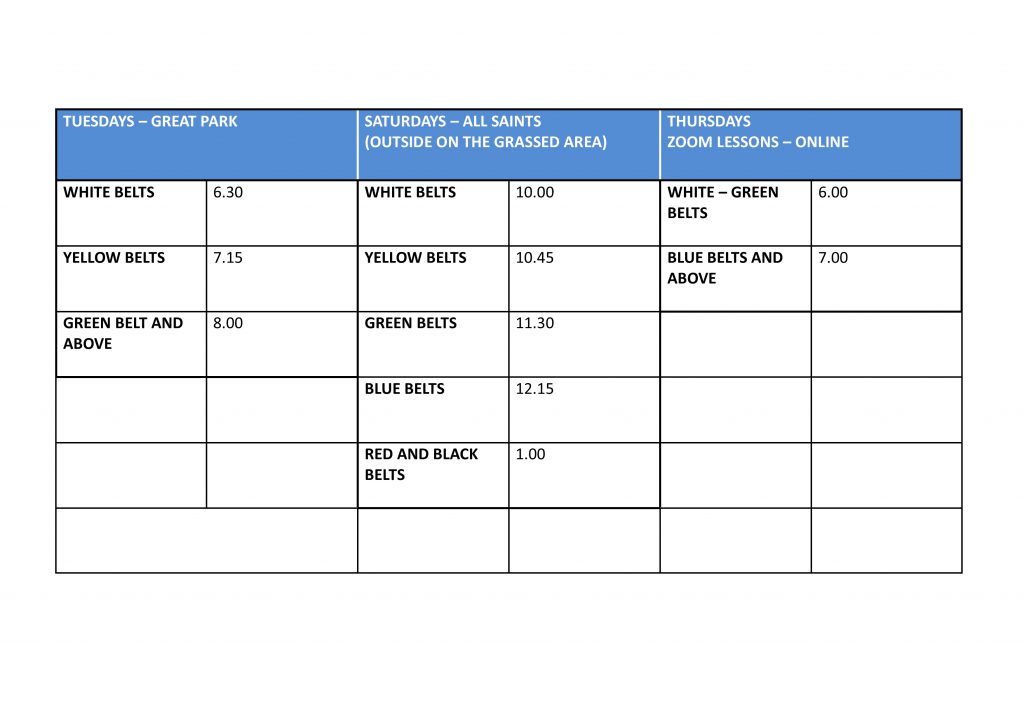 The programme will commence on Saturday 8th August with the first outdoor lesson. We do not have access to the toilet until the hall formally opens again – which I hope is in September – so be prepared! I will be using the BBC weather forecast as a guide. Please use this information to indicate if the weather is likely to be inclement.
There will be no zoom lessons on Saturday 1st August and Tuesday 4th August as I am taking a short break